Friday, November 11
Dirty Byrds: 10 am – 1 pm
Kettle of Fish: 2 – 5 pm

Saturday, November 12
John Patti Project: 10 am – 1 pm
Smudgekitten: 2 – 5 pm
Fleetwood Max: 6 – 8:30 pm

Sunday, November 13
Chris Otto & The Melody Miners: 10 am – 1 pm
Tropical Ave: 2 -5 pm

Monday, November 14
Out of the Blue SRQ: 10 am – 1 pm
Bickley Rivera Steel Pan Band: 2 – 5 pm
2022 Siesta Key Crystal Classic Band Information
Dirty Byrd - Friday, November 11 @ 10 am – 1 pm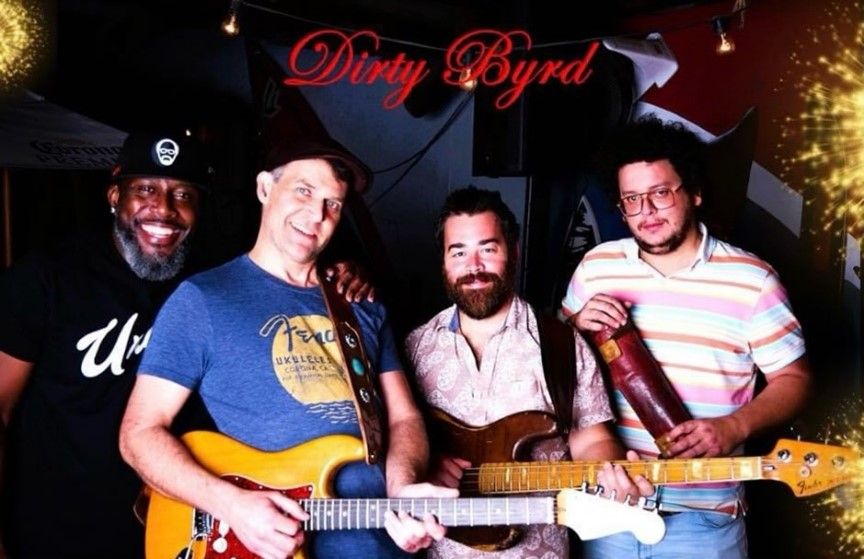 Dirty Byrd is one of the area's favorite party bands. The Sarasota-based jam band performs blues, rock, jazz, southern rock, country, R&B, funk and more. Led by two seasoned musicians, Brian Byrd and Thorson Moore and joined by Andrew Glasgow (bass) and Damon Owens (drums). The band's shows frequently include some of the area's most talented musicians as guest performers, creating shows that are unique each time the band takes the stage.
BRIAN BYRD: PEDAL STEEL GUITAR/LEAD VOCALS
Sarasota born and based Brian Byrd, lead vocalist and pedal steel guitar player in his band, Dirty Byrd, started his music career on drums at age 2. His true passion and perhaps what he is most known for is the pedal steel guitar, and he has spent many years honing his craft. However, his amazing and soulful vocals do not go unnoticed, and his pedal steel guitar oftentimes echoes the emotion and soul in his voice. His musical influences are Robert Randolph, Eric Gales, Joe Bonamassa, BB King, The Lee Boys, and steel players from Sacred Steel music to name just a few. He has decades of experience on both instruments and is an amazing vocalist bringing, soul, blues, funk, rock, classic Motown, and southern rock to many venues across Florida. He is a charismatic and magnetic performer and connects with a diverse fan base.
THORSON MOORE: GUITAR
Thorson Moore is best known for his distinctive tone and invaluable guitar playing. Born in Hawaii, Thorson moved with his family at the age of 10 to Sarasota, Florida beginning his musical journey in his early teens. Thorson started off as a drummer and evolved into a professional highly experienced guitar player. In 2008 he released his own album "Open Art Surgery". Then in 2015 he released a very uniquely styled album entitled "Mr. Nobody".
ANDREW GLASGOW: BASS
A Florida-native, Andrew attended the Visual and Performing Arts program at Booker High School, after which he attended Stetson University on a scholarship for classical guitar. Bought a bass guitar in 2014 and learned to play. In the following years, Andrew made music his career with national touring experience, multiple local club residencies, and opening performances for legacy acts such as Bon Jovi, Tom Petty, and The Manhattan Transfer. He continues to deepen his exploration of music to bring audiences and fellow band members refreshing and quality performances. Bass guitar influences: Paul Jackson, Jaco Pastorius, James Jamerson, Donald Dunn, Carol Kaye, Leland Sklar, Chuck Rainey
DAMON OWENS – DRUMS
A Sarasota native, Damon got his first drum set at age 13 and his favorite bands include: Galactic, Black Uhuru and the Beach Boys.
Kettle of Fish - Friday, November 11 @ 2-5 pm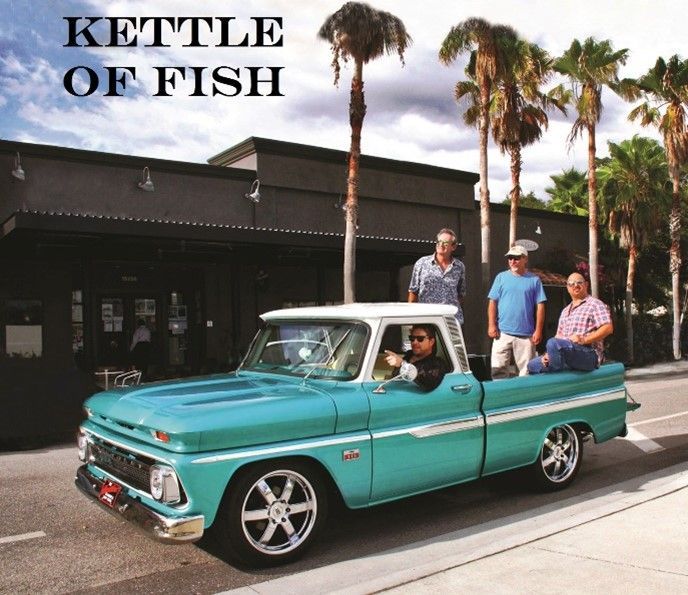 Kettle of Fish plays "festiblues," the kind of festival music that features blues, soul and funk with the energy of rock n roll. They make old songs new again, and their originals sound like classics. Kettle is one of the hottest live acts in Southwest Florida, headlining to thousands, and opening for such acts as Eddie Money, Marshall Tucker, Elvin Bishop, Dickey Betts (three times, and he even called the band "intimidating") and many more playing originals and deep track covers. Kettle has been led by singer and principal songwriter Dana Lawrence since its inception in 2001. Current members include Greg Poulos returning on guitar (formerly with the Freddie King Band, the Venturas, Rock Bottom). Chris Guertin returns to bass duties and vocals after a hiatus. Guertin was a member of the Big Kahuna Band and Musical Director on Princess Cruises. Pat McDonald on drums (toured with Charlie Daniels for 20 years). Todd Adams is on keys. Other honorary members include Thorson Moore, Kevin Miller, Bob Dielman and Lei Stanhope on guitars, Garrett Dawson on drums/percussion, Andy Wallace or Matthew Frost on keys, Jimmie Fadden (Nitty Gritty Dirt Band) on drums and harmonicas and other friends from the road.
Special events have included headlining the GABBA Festival at the great Cox Capital Theater in Macon, Georgia, headlining the Myakka River Blues Fest (twice), Wanee Fest in Live Oak, Sarasota Blues Fest, Venice Blues Fest, Suncoast Blues Fest, Gulf Coast Rhythm & Ribfest, Bradenton Blues Fest and numerous regional festivals.
John Patti Project – Saturday, November 12 @ 10 am – 1 pm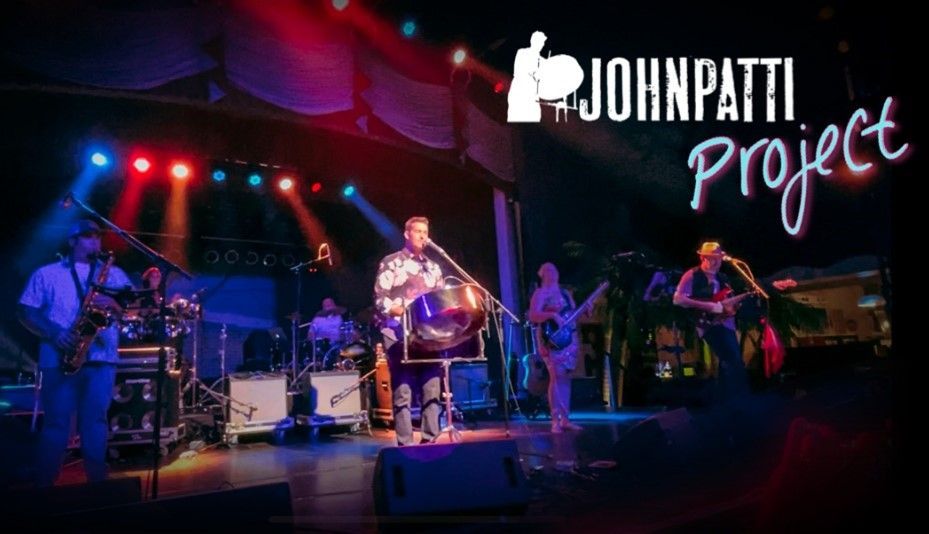 The John Patti Project takes jazz and blues to new heights by adding the unique island flare of the steel drum, creating an intriguing and memorable performance guaranteed to get any audience dancing in their seats! Six-time T.R.M.A. "Musician of the Year" winner, John brings the steel pan to the forefront of musical entertainment with an "island infused jazz and blues" style. His expressively smooth sound and innovative take on the steel pan has taken him on stages with greats like Les Paul in New York City, Nadirah Shakoor at the New Orleans Jazz Festival, the Coral Reefer band in Key West and stadiums around the country performing the National Anthem. Many songs from John's albums can be heard daily on Sirius/XM Radio's Radio Margaritaville. The Project excels at intertwining various genres of music, creating new exciting versions of classic hits along with original music. From sophisticated island jazz to R&B, Motown and the blues to reggae and calypso, these world-class musicians take you on an exotic musical escape and an unforgettable night of entertainment!
Smudgekitten – Saturday, November 12 @ 2-5 pm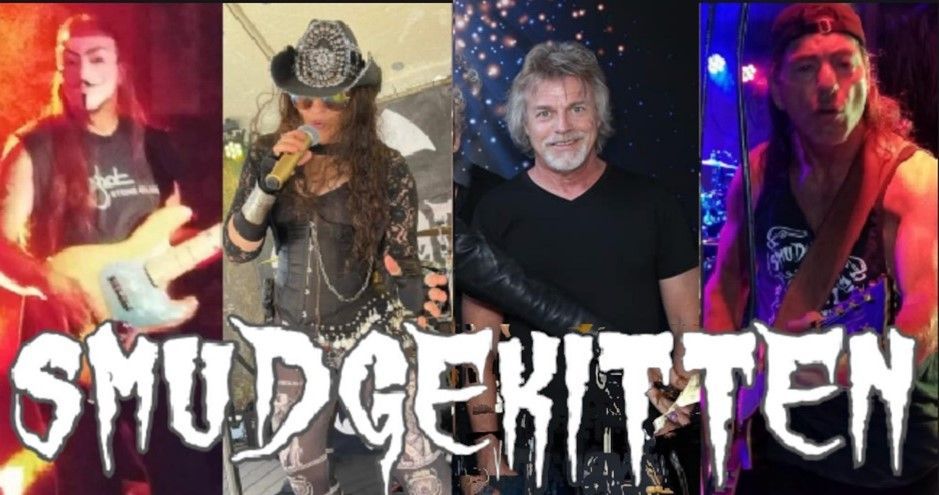 Smudgekitten is a southwest Florida rock band fronted by one of the premier, multi-talented female vocalists you will ever hear. Professional, seasoned musicians from national touring and recording acts with full lighting rig and sound production. Music by AC/DC, Aerosmith, Heart, Janis Joplin, Van Halen, Grace Potter, Elle King, Whitesnake, Ozzy, Red Hot Chili Peppers, Guns & Roses, Judas Priest, Rush, Rage Against the Machine and many others. A true southwest Florida favorite, in-demand concert party band that delivers the power, soul, punch and memories that fuel generations! Stellar musicianship, vocals and concert production from one of the top tier live rock acts in southwest Florida. NO backing tracks, NO tricks, nothing but genuine and honest rock at its finest, delivered with passion, energy and all-out reverence to the times and tunes that brought a spark and memory to our lives.
Experienced and available for clubs, concerts, festivals, bike rallies and all community and corporate events. For booking information send a message on the SmudgeKitten Facebook page.
Fleetwood Max – Saturday, November 12 @ 6-8:30 pm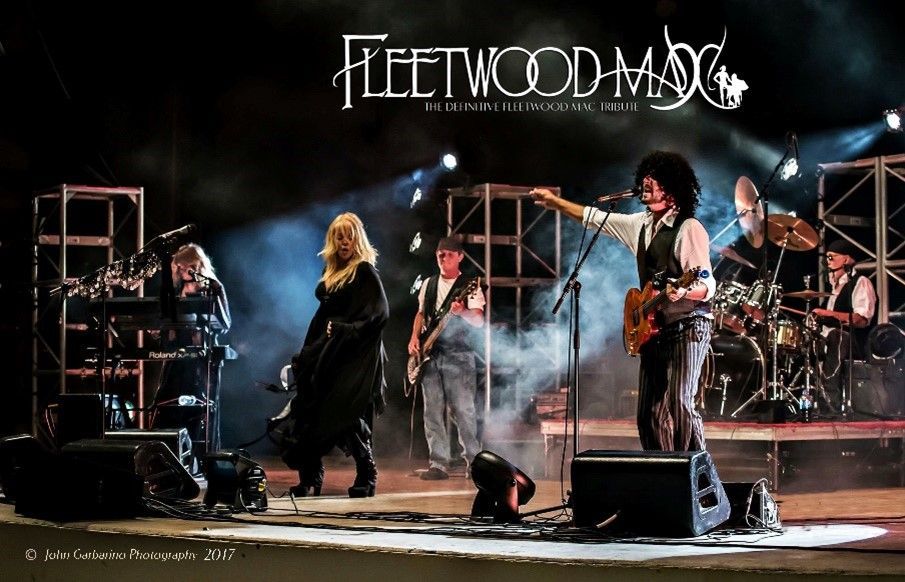 Fleetwood Max is the country's Definitive Fleetwood Mac Tribute Band - an authentic recreation of the music, magic, and incredible stage production of the legendary Stevie Nicks & Fleetwood Mac at the height of their career! From the Rumours album in 1977 to current touring set lists!
The Fleetwood Max experience captures the mystical atmosphere, look and sound of these enigmatic Rock and Roll Hall of Famers with outstanding vocal and character performances from a cast of the most respected, professional, touring musicians on the United States East Coast. Each member is dedicated to, and passionate about, providing the most accurate and personalized recreation of the Magic that is Fleetwood Mac and Stevie Nicks, while replicating the very best of every live performance!
Stevie Nicks look-a-like / sound-a-like, lead vocalist Sharon Epperson is nearly indistinguishable in every Stevie Nicks move, look and impassioned vocal. Expect to be transported to an enchanted place that is truly Stevie Nicks with breathtaking costuming and compelling performances of Fleetwood Mac / Stevie Nicks hit songs including: 'Sara', 'Gypsy', 'Rhiannon', 'Edge of Seventeen' and more.
David Epperson hypnotizes audiences when he takes the stage as Lindsey Buckingham, demonstrating inspired, accomplished guitar and vocal veracity during group performances including 'Go Your Own Way', and acoustic solo flair with a rarely seen live, spot on, note for note performance of the crowd favorite, 'Big Love'.
Fleetwood Max ~ The Definitive Fleetwood Mac Tribute Band ~ delivers The Very Best of Fleetwood Mac and Stevie Nicks
Chris Otto & the Melody Miners – Sunday, November 13 @ 10 am – 1 pm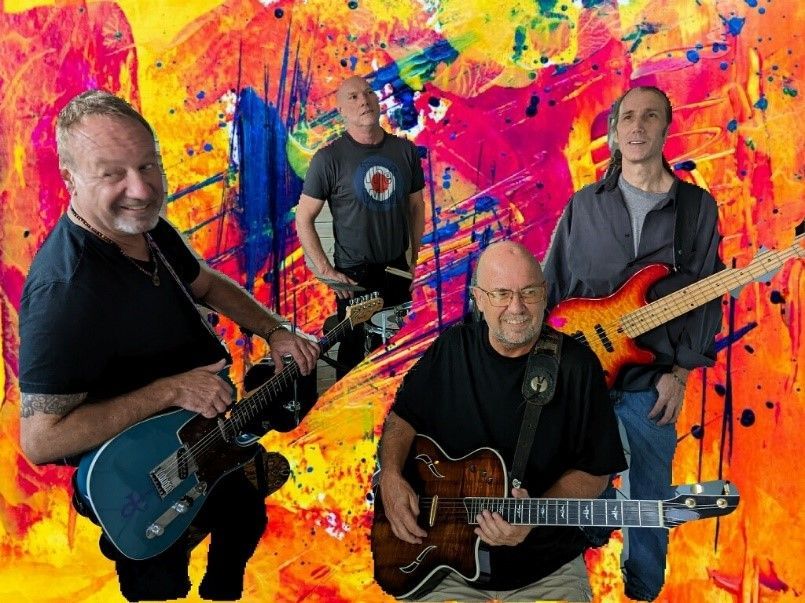 The Melody Minders are a well-rounded group of seasoned musicians composed of Chris Otto on guitar and vocals; Bryan Spainhower on lead guitar; Scott Mosher on bass; and Matt Drummer on the drums. They play timeless classics from CCR, Eric Clapton, Tom Petty, ZzTop, Neil Young, The Grateful Dead, Rolling Stones, Lynyrd Skynyrd, David Bowie, Van Morrison, Marshall Tucker, Stone Temple Pilots, Red Hot Chili Peppers, and Jack Johnson. They also perform original songs making this quartet a well refined musical group.
Tropical Ave – Sunday, November 13 @ 2-5 pm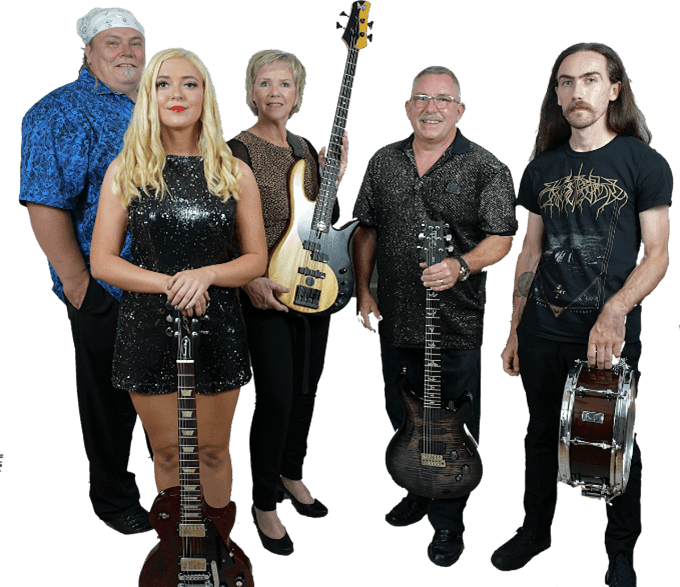 Tropical Avenue is patterned after the bands you would find playing on South Beach, in Miami -
just transplanted on the "Left Coast" of Florida! The band plays lots of new Top 40 dance tunes, Latin, Island, R&B & Rock genres.
Tropical Ave always is interactive, getting volunteers up to play bongos & tambourines with them on select songs!
The five-piece group has a female and male lead singers, guitar/ trumpet, keyboards, bass & drums and puts the emphasis on fun!!
Since 2007 their mantra is, "Always A Celebration!"
Out of the Blue SRQ – Sunday, November 14 @ 10 am – 1 pm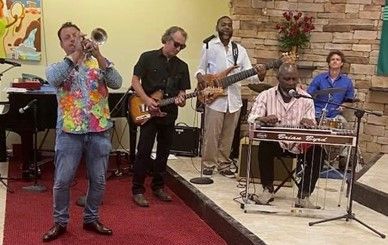 Out of the Blue SRQ is pedal steel meets the blues trumpet from Beale St. of Memphis. Out of the Blue will have you on your feet and dancing from the moment you hear them. Consisting of 5 touring musicians that call the SRQ area home. From the unforgettable sound of the pedal steel, mixed with New Orleans style piano, and the familiar blues trumpet. We look forward to playing for you, and will have you dancing.
Bickley Rivera Steel Pan Band – Sunday, November 14 @ 2-5 pm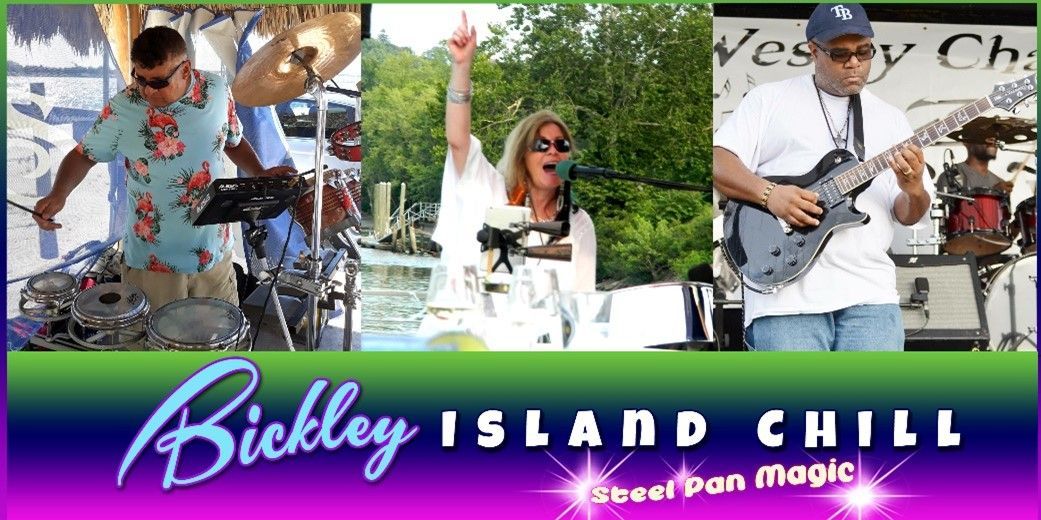 Recognized throughout New England and Southwest Florida, Bickley Rivera is a reggae, soca and calypso performer capturing global interest after the release of four albums which made it to Top 20 charts. The newest contemporary album, entitled "Positive Vibez" has had radio play on over 100 radio stations in the US and other countries such as UK, Greece, Japan and Africa. Other releases, "The Ultimate Chill", "Breaking the Mold", and "Chillin' After Five" have all garnered charted singles.
Ms. Rivera has appeared on television, many large-scale festivals, and a regular in Southwest Florida at reggae venues. Her Chill and Reggae music and interviews are aired on radio stations in over 100 countries and had several tracks featured in The Weather Channel TV programming. In Bickley's previous group, she and her husband originated and produced "Caribbean Madness", the only Caribbean Riverboat Cruise series on the Connecticut River, selling out for 5 seasons. She has opened for national groups, such as "America" and performed with international artists, Tony "Kitch" Paine (son of legendary Lord Kitchner), Jazz singer Joan Cartwright, Eugene Grey (touring guitarist for reggae-star Burning Spear). She has also worked with international musicians/producers Steve Oliver and Tom Schuman (Spyro Gyro). In 2014, Bickley was awarded by GHP Radio the Best World Island/Reggae Music and nominated for Best Smooth Jazz Soul Female Artist, Best Female Producer/Songwriter and Best Latin & Brazilian Jazz.
Bickley Rivera has performed in the Northeast, Midwest, Southeastern and Bahamas and the International 2015 Panorama Event (Birdsong Steelband) in Trinidad with band arranger Andy Narell. She has performed as opening act for Ras Sparrow and her group performs for Karibbyan Kruze Musical Festival at Skipper's Smokehouse in Tampa, FL each year. Bickley returns to Trinidad in 2023 to perform in the International Panorama event with Phase II Large Steelband.