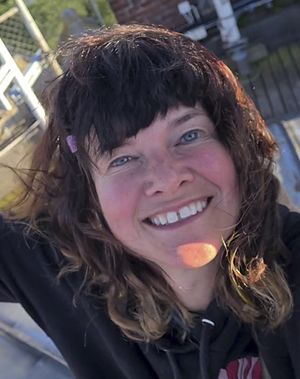 My name is Ludo Roders and I come from the Netherlands.
I graduated from Rotterdam Willem de Kooning art academy. Not long after my study in painting, drawing and print techniques I got in touch with the world of sculptures of sand, ice and snow. Ever since I have been developing my skills and broadening my view by participating in festivals and competitions all over the world.
In the winter of 2021, I was the winner of a Dutch Television show Ice Masters. A competition on TV between six ice sculptors with four episodes. An amazing experience that I will never forget.
My sculptures are sweet symbioses of dream and reality. They breathe a magical and poetic atmosphere, something that is also often to be found in my paintings that I create in my studio.
Visit my website if you want to see more: www.ludoroders.com Or my Instagram: @ludoroders
Ludo Roders
The Netherlands
Mob: +31 (0)6 53 51 74 08
Email: ludo.roders@hccnet.nl
Website: www.ludoroders.com
Instagram: @ludoroders
Sand Sculptures prizes:
2022 Kalmar, International Sand Sculpture Competition: doubles – Sweden - 1st Place & Public prize
2019 South Padre Island, International Sand Sculpture Competition: solo - Texas, USA – 4th Place
Enonkoski, International Sand Sculpture Competition: solo - Finland – 3rd Place
2018 Enonkoski, International Sand Sculpture Competition: solo - Finland – 1st Place
2017 Rorschach, International Sand Sculpture Competition: doubles - Switzerland – 2nd Place
2011 Rorschach, International Sand Sculpture Competion: doubles - Switzerland – 2nd Place
2010 Noordwijk, Sand Sculpture Competition: doubles - Holland – 1st Place
Kolmarden, International Sand Sculpture Competition: doubles - Sweden – 1st Place
2009 Rorschach, International Sand Sculpture Competion: doubles – Switzerland – 2nd Place
Donghae City, World Sand Sculpting Competition: doubles - South Korea – The dream prize
2008 Zhoushan, 10th China International Sand Sculpture Competition: doubles- China – 3rd Place
2007 Harrison, World Championship of Sand Sculpting: doubles and team - Canada – 3rd Place
Valladolid, Sand Sculpture Competition: solo - Spain – 3rd Place
Scheveningen, International Sand Sculpture Competition: team - Holland – Carvers Choice Award
Laredo, Sand Sculpture Competition: solo - Spain – 3rd Place
2006 Sondervig, International Sand Sculpture Competition - Denmark – 2nd Place
2005 Harrison, World Championship Sand Sculpting: doubles and team - Canada – Team 3rd Place
Sondervig, International Sand Sculpture Competition: solo - Denmark – 4th Place
Scheveningen, International Sand Sculpture Competition: team - Holland – 4th Place
2004 Harrison, World Championship of Sand Sculpting: doubles and team - Canada – Team 2nd Place
Rorschach, Sand Sculpture Competition: doubles - Switzerland – 1st Place
Ice & Snow Sculpture Prizes
2022 Poznan, International Ice Sculpture Competition: double – Poland – 3rd Place
Poznan, International Ice Sculpture Competition: solo – Poland – 3rd Place
2021 Ice Masters: IJsmeesters: een koud kunstje – The Winner in a Dutch Television Show
2018 Heinola, International Ice Sculpture Festival: solo - Finland – 3rd Place
2017 Mikkeli, International Ice Sculpture Competition: solo - Finland - 2nd Place
Edmonton, Silver Skate Festival, Snow Sculpture Competition: doubles - Canada - Sculptor's choice award
2016 Heerlen, Dutch Championship Ice carving - Holland – 3rd Place & Sculptor's choice award
2011 Arnhem, Dutch Championship Ice carving: doubles - Holland – 3rd Place
2010 Berlin, Harbin International Ice Art Sculpture Competition - Germany – 3rd Place
2006 Arnhem, Dutch Championship Ice carving - Holland – 3rd Place
2005 Arnhem, Dutch Championship Ice carving - Holland – 1st Place
Sand Sculptures
2022 Rorschach, International Sand Sculpture Competition: doubles - Switzerland
Stadsstrand Vlaardingen, 'Go with the flow(er)', Sand Sculpture: solo - NL
Kalmar, International Sand Sculpture Competition: doubles – Sweden -1st Place & Public prize
Middelkerke, International Sand Sculpture Festival - Belgium
Kristiansand, Sand Sculpture Symposium: solo - Norway
Gaia ZOO Kerkrade, Sand Sculpture festival - NL
Sondervig, International Sand Sculpture Festival - Denmark
Gartenschau, Sand Sculpture festival – Germany
Amstelveen, Sand Sculpture assignment for Gamma - NL
2021 Rorschach, International Sand Sculpture Competition: doubles - Switzerland
Stadsstrand Vlaardingen, 'Coming out of your shell', Sand Sculpture: solo - NL
Middelkerke, International Sand Sculpture Festival - Belgium
Gartenschau, Sand Sculpture festival - Germany
2020 Zevenbergen, one day challenge - Holland
Stadsstrand Vlaardingen, 'Maaszinnig' - Holland
La Pineda, Sand Sculpture Project 'Pessebre de Sorra' - Spain
2019 South Padre Island, International Sand Sculpture Competition: solo – Texas, USA -4th Place
Rorschach, International Sand Sculpture Competition: doubles - Switzerland
Enonkoski, International Sand Sculpture Competition: solo - Finland – 3rd Place
Kristiansand, Sand Sculpture Symposium: solo - Norway
Lappeenranta, International Sand Sculpture Festival - Finland
Sondervig, International Sand Sculpture Festival: solo - Denmark
Weston Super Mare, International Sand Sculpture Festival - England
2018 Rorschach, International Sand Sculpture Competition: doubles - Switzerland
Oss, Sand Sculpture Festival - Holland
Enonkoski, International Sand Sculpture Competition: solo - Finland – 1st Place
Kristiansand, Sand Sculpture Symposium: solo – Norway
Redcar, International Sand Sculpture Festival - England
Sondervig, International Sand Sculpture Festival: solo – Denmark
Wilhemshaven, Wattenmeer, 'Harbour Porpoise', Unesco - Germany
Weston Super Mare, International Sand Sculpture Festival - England
2017 Rorschach, International Sand Sculpture Competition: doubles - Switzerland – 2nd Place
Oss, Sand Sculpture Festival - Holland
Kristiansand, Sand Sculpture Symposium: solo - Norway
Sondervig, International Sand Sculpture Festival: solo - Denmark
Weston Super Mare, International Sand Sculpture Festival - England
2016 Zhoushan, International Sand Sculpture Festival - China
Enonkoski, International Sand Sculpture Competition: solo - Finland
Kristiansand, Sand Sculpture Symposium: solo - Norway
Jelgava, International Sand Sculpture Competition: solo - Latvia
Sondervig, International Sand Sculpture Festival - Denmark
Kristiansand Dyrepark, Sand Sculpture in the zoo – Norway
Snow and Ice Sculptures
2023 Jelgava, International Ice Sculpture Competition - Latvia
Valloire, International Ice Sculpture Competition: solo - France
2022 Zwolle, Snow and Ice Sculpture Festival - Holland
Scheveningen, Art in Ice - Holland
Valloire, International Ice Sculpture Competition: solo - France
2021 Poznan, International Ice Sculpture Competition: double – Poland – 3rd Place
Poznan, International Ice Sculpture Competition: solo – Poland – 3rd Place
Scheveningen, Ice sculpture in a container - Holland
Ice Masters: IJsmeesters: een koud kunstje – The Winner in a Dutch Television Show
2020 Europapark, International Ice Sculpture Festival - Germany
Heinola, International Ice Sculpture Festival: solo- Finland
Valloire, International Snow Sculpture Competition: team France
Valloire, International Ice Sculpture Competition: solo - France
2019 Zwolle, Snow and Ice Sculpture Festival - Holland
Scheveningen, Ice carving Coolevent, 'Frozen Magic'- Holland
Europapark, International Ice Sculpture Festival - Germany
Heinola, International Ice Sculpture Festival: solo- Finland
Prienai, International Ice Sculpture Competition - Lithuania
Valloire, International Ice Sculpture Competition: solo – France
2018 Zwolle, Snow and Ice Sculpture Festival - Holland
Scheveningen, Ice carving Coolevent, 'Winterworld: Steam and tales'- Holland
Europapark, International Ice Sculpture Festival - Germany
Heinola, International Ice Sculpture Festival: solo - Finland – 3rd Place
Jelgava, International Ice Sculpture Competition - Latvia
Valloire, International Ice Sculpture Competition: solo - France
Scheveningen, Dutch Championship Ice carving - Holland
2017 Geilo, Natural Glasier, Ice carving - Norway
Heinola, International Ice Sculpture Festival: solo - Finland
Mikkeli, International Ice Sculpture Competition: solo - Finland - 2nd Place
Edmonton, Silver Skate Festival, Snow Sculpture Competition: doubles - Canada - Sculptor's choice award
2016 Heerlen, Dutch Championship Ice carving - Holland – 3rd Place & Sculptor's choice award
Scheveningen, Ice carving Coolevent, 'Famous art in ice' - Holland
Amsterdam, Snow and Ice Sculpture Festival - Holland
Heinola, International Ice Sculpture Festival: solo - Finland
Jelgava, International Ice Sculpture Competition - Latvia
2015 Kautokeino, Working in an ice hotel - Norway
Harbin, International Ice Sculpture Competition - China
2011 Arnhem, Dutch Championship Ice carving: doubles - Holland – 3rd Place
2010 Berlin, Harbin International Ice Art Sculpture Competition - Germany – 3rd Place
2007 Fairbanks, World Ice Art Championships /single block and multi block - Alaska
2006 Arnhem, Dutch Championship Ice carving - Holland – 3rd Place
Fairbanks, World Ice Art Championships /single block – Alaska
2005 Arnhem, Dutch Championship Ice carving - Holland – 1st Place