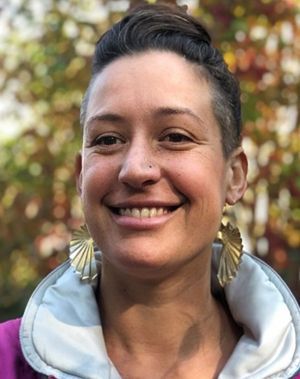 Morgan Rudluff is a beach-loving born an' raised California girl who serendipitously stumbled into sand sculpting in 2007.
By 2011, she was traveling full time, appearing on TV shows, giving media interviews, professionally competing, and spreading general joy through art and creativity to people far and wide.
Rudluff considers herself to be quite privileged and very lucky to have been able to make a living doing such fun unique work, and still to this day, is grateful for the opportunity to travel and be creative.
In 2018 Rudluff made the complicated choice to put sand sculpting on the back-burner and focus on a new career in the healing arts. She now currently works full-time as a massage therapist splitting her time between her private practice in Oakland, CA and as a massage therapy instructor at the San Francisco School of Massage & Bodywork.
Rudluff considers all her years as a sand sculptor to have been instrumental in how she approaches bodywork: "Both of my careers have been equal parts art, design, science, composition, education, adaptability, attention to detail, creativity, intuition, and absolute love for what I am doing. Plus, I usually get to work barefoot doing both!"
When not doing massage or sand sculpting, Morgan spends her time in the Bay Area taking improv classes, working in her garden, and going to see live music.