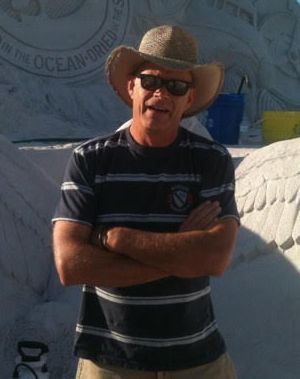 Ron MacDonald
Birthplace: Ohio
Current home base: Orlando, Florida USA
I was born in Ohio but grew up in Florida, California, and Kentucky. Joined the Navy after high school and sailed around for 10 years in the Pacific, until dry-docking myself in Colorado for art school in 1985. I've traversed the United States 6 times total; lived as far west as Hawaii, the wilds of Oregon, the mile high plains of Denver, until finally beaching myself in Orlando in 1987.
I'm a retired Disney show production artist. Worked 32 years with paint, foam, clays and fiberglass, making models of Mickey Mouse. I'm a freelance artist in illustration, cartooning, and book cover art. Sand is the newest and most challenging I have ever worked in. I started playing at the beach; when the waves weren't enough for surfing, I started occasionally building in sand.
Ft. Myers was the first event I ever ventured to see and was the first competition I ever entered in 2000 as an amateur. I am glad to be back to the Crystal Classic!