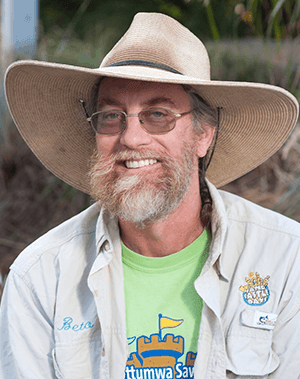 Bert Adams
Yacolt, Washington
Bert is mostly a contest organizer. He's started more contests than any known person in the world, and annually oversees the Sand in the City® fund raising contests. He LOVES being invited to a contest he doesn't organize. It's often the only time he gets to carve all year.
Bert doesn't win medals at Masters contests, but he often wins the publicity prize. His "Under Pressure" sculpture, (or Hand on Head), is still a favorite on the web (Still on the 1st page of Google Images Sand Sculptures). He's gotten 4 AP and UPI photos from his contest entries. As Walter says" He wins the 'Publicity Prize'". Not bad for a guy that carves once or twice a year.
Bert is proud of starting the Sand in the City® Contests. These Fund Raising Contests have generated over $7M for Non Profit Organizations, and have introduced sand sculpture to literally thousands of people. Many Sand in the City® graduates now compete at Masters Contests throughout the USA.
Bert's wish is to make Sand Sculpture the next intramural High School and College competition.