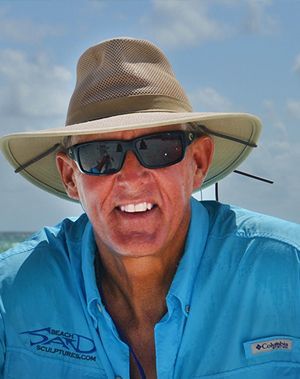 Rick Mungeam
On the Emerald Coast beaches of Florida's Panhandle is where Rick truly began honing his sand sculpting skills. Rick has been invited to many sand sculpting events and has created many award winning sand sculptures. It became obvious he has an artistic talent and a gifting for teaching.
Together with his wife, Capri, their company, Beach Sand Sculptures LLC, has organically grown into the largest sand castle lesson company in the world. They offer both family sand castle lessons and professional sand sculptures. As the face of Beach Sand Sculptures LLC, Rick has been featured on numerous local and national televised programs, features, and publications. An extensive sand collection at home from many distant beaches demonstrates Rick's love for "The Beach".
As a renowned residential designer, Rick's architectural practice has taken him on travels around the world designing custom resort homes. These truly custom designs have been showcased in many design and architectural publications over the years. Architecture has allowed Rick to be creative with his passion for design.
When he's not on the beach or working, Rick can be found on the water fly fishing on his BOTE paddle board. Rick has a strong desire to give back to his community; you can find him volunteering at numerous Florida State Parks throughout the year.