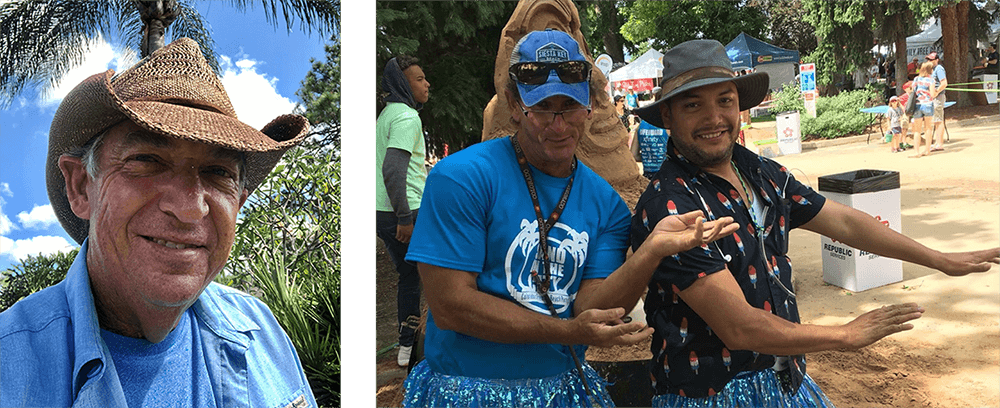 Brian Wigelsworth Left - Andy Daily and Albert Lucio Right
It was back in 2009 that Brian Wigelsworth, Master Sand Sculptor, artist and competitor in the top sand sculpting competitions, had an idea that would transform our 99% quartz sand on Siesta Beach into an art gallery in just a few days. He brought his idea to a marketing committee meeting that was part of the Siesta Key Chamber of Commerce at the time. Lots of discussion and enthusiasm ensued about how to go about making this competition a reality. Over the course of many months and many meetings with several organizations including Sarasota County Parks and Recreation, Visit Sarasota, Sarasota Chamber of Commerce and Mote Marine Laboratories, the idea transitioned into reality and in November of 2010, our first competition on Siesta Beach was held. It is Brian's perseverance that paid off to bring this to reality.
But the reality of the festival could never have happened if it wasn't for the operational and logistical support of many individuals who have now come together every year to volunteer and produce this now magnificent festival that has transformed into not only a sand art gallery, but a music festival with a Vendor Village, lessons and other hands on experiences that makes this festival such a popular event every year. We thank everyone who has put their efforts into making this event come to life for the sake of tourism and art. Your admission fees only go to pay for the cost of the event and without them, we could not support this year after year. Thank you to our attendees who continue to visit this outdoor art gallery with enthusiasm and excitement. You are truly appreciated.
Today, Brian's team, Sandventure Crew, can be seen out on the sand every year providing the guidance and support for all of the artists who arrive from many countries to participate in this competition every year. In the Master Sand Sculpting world, master sand sculptors who host their own competitions cannot compete in them so for Brian the result is bittersweet. Competing is his love but admiring the fruits of all of his friends and other artists' labor is just as inspiring. We look forward to another year of fabulous sculptures under colored lights at night too. A scene not to be missed.